A banner can be applied to your entire site or individual photos through the Merchandiser. This article focuses on the full site banner.
Supercharged Marketing
A dealership banner provides instant marketing to your web visitors. It can encompass multiple objectives.
Who you are! The graphic will be seen not just on your web site, but also ad sites. So do make keep your dealer name and logo prominent.
Branding. What logo and slogan do people already see to remind them about you? What makes you distinctive? Why should someone buy from you? The banner should reinforce your dealer positioning and messaging with copy and graphics.
How to find you. Remember, the photo will be displayed on other sites. Contact info, such as web domain, phone, or location, makes it easy for people to find you.
Get started
It may take a while for the owner, GM, marketing, Internet sales, and graphics team members to discuss, design, and approve a banner. So an incremental approach is always best. You can't go wrong by starting with a simple banner with your logo in the upper left corner on a fully transparent background.
Banner Requirements
The site banner graphic is a full overlay that's displayed on top of your photos. For 2K or mixed photo sizes, create a banner image that is 1920x1080 pixels in size and transparent - PNG format (for a 16:9 aspect ratio). If your site is 4K, you can use a 2K or 4K banner (3840x2160 pixels PNG 16:9).
How to Add
Log into iContent
If you use a dealer group login, select one dealership to apply the banner to.
Click Merchandising in the top left Main Menu and then Overlay. A thumbnail will display for the current banner if there is one.
Click Upload to find and select a new banner to apply.
Click Select to specify which vehicle photos should use the overlay.
Click Apply to save your changes.
How to Apply
Once your banner is set up you should test it on a Sold vehicle to make sure it displays as desired. It's simple to apply the banner to a vehicle.
Log into iContent
Find a vehicle in the main Inventory page to add it to.
Click the pencil at the left of the vehicle listing to enter the Picture Editor.
Click the Rebanner button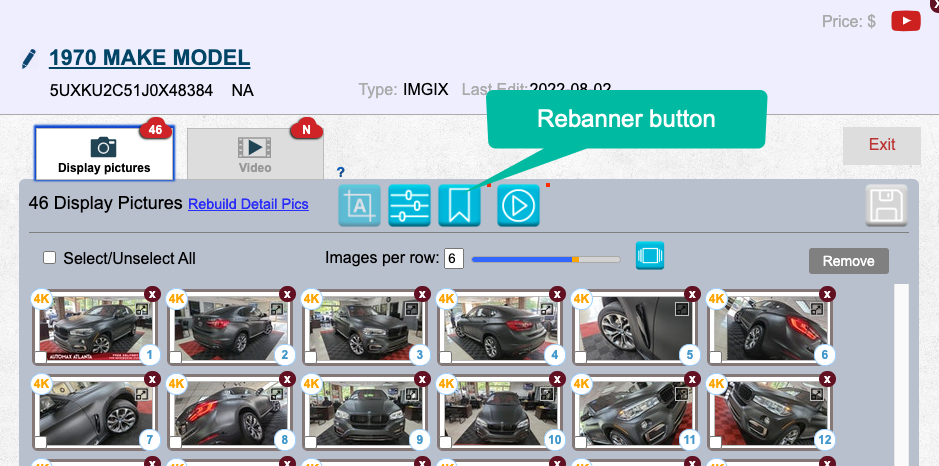 See the video
Tips
Here are a few general design tips.
Composition. Think of the banner as a transparent frame, especially if you have more than one element. Design it with the banner copy and graphics on the outside and the vehicle in the inside.
Spin room. Test it with a few actual spins of large vehicles. Be sure to leave room as the car or truck rotates.
Color balance. Adjust your banner colors and transparency as needed for your actual wall, floor, and turntable colors.
Gradient. A gradient can be a nice effect to blend the photo studio background for a logo at the top of the overlay.
Camera focus and cropping. After you've settled on the banner, review your fixed camera view and spin pics in Display Pictures, and adjust or crop as needed. You typically want the vehicle to occupy 85% of the free space.
Improve your photos
Your banner can be used to make your photos even better. Image 1 below shows a picture where the ceiling and a hotspot can be seen. This can be fixed with a banner overlay as shown in Image 2. The top half of the pic should be white. The bottom half is a gradient that transitions to 100% transparency for a natural look. Of course you can add your dealer brand and copy on top.
Image 1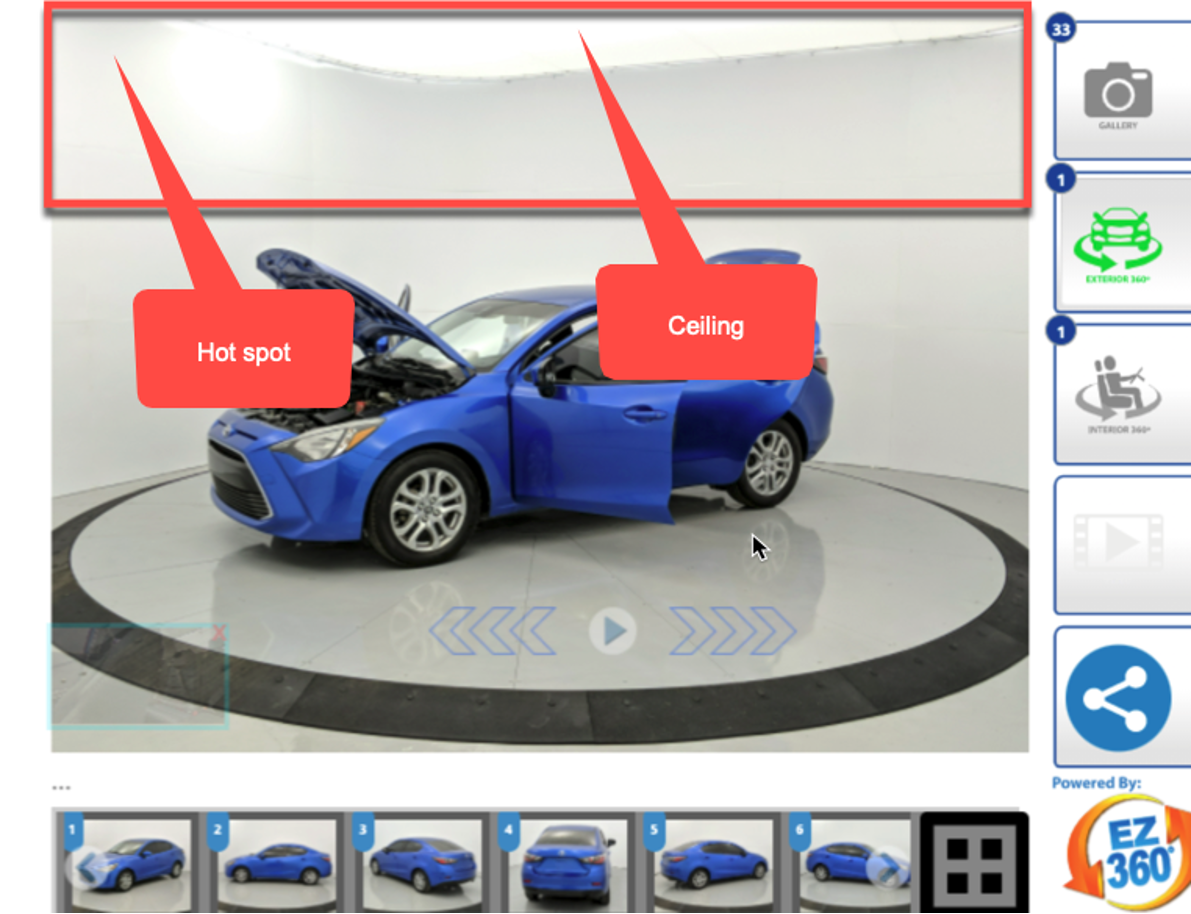 Image 2